PRESENTATION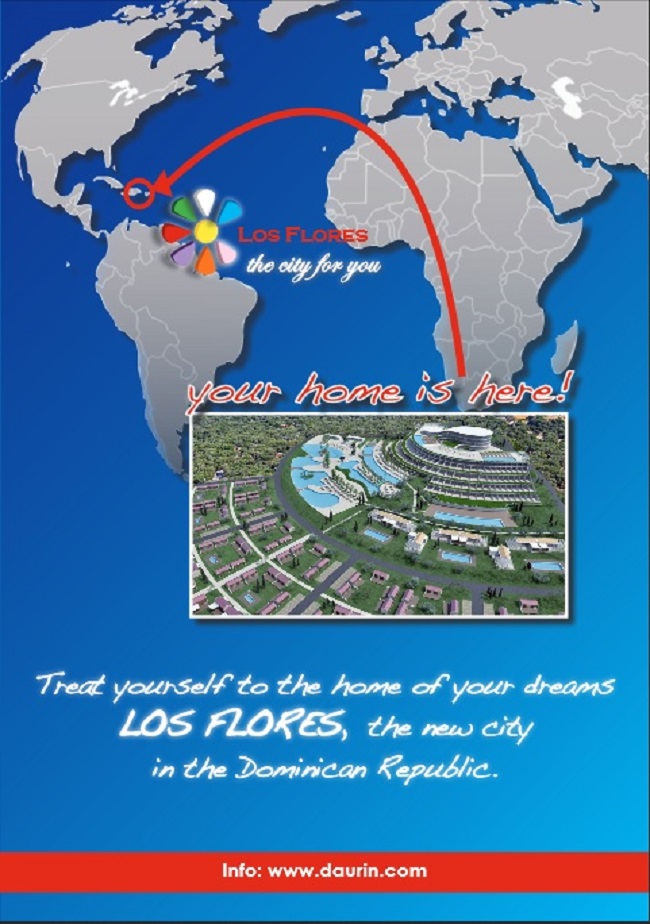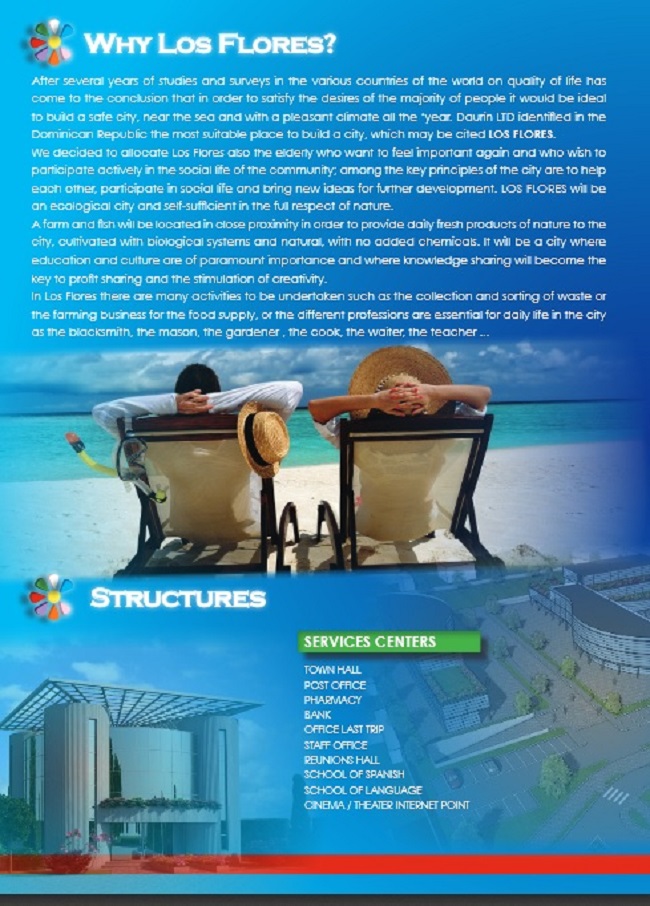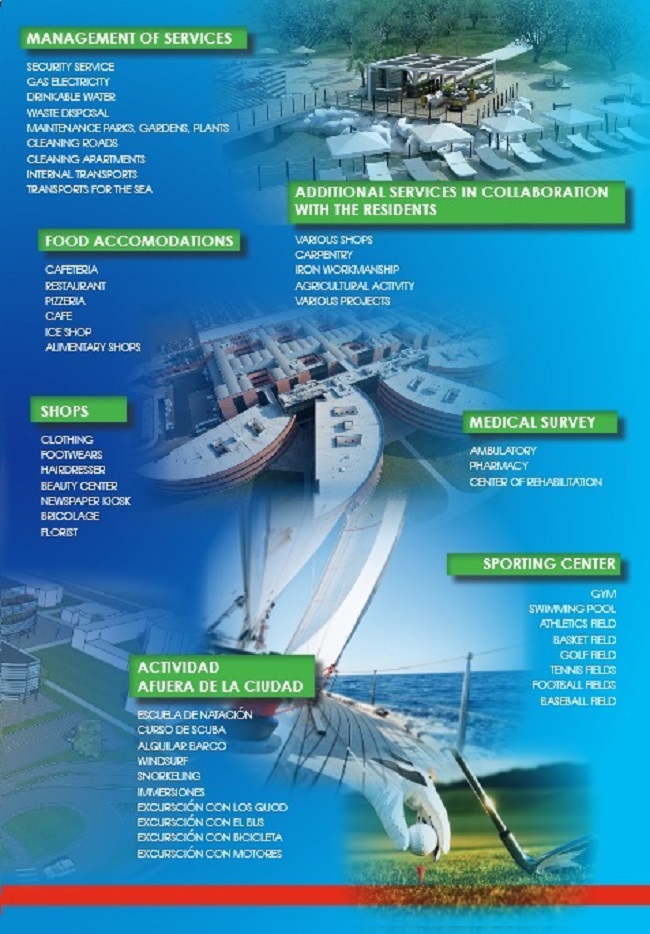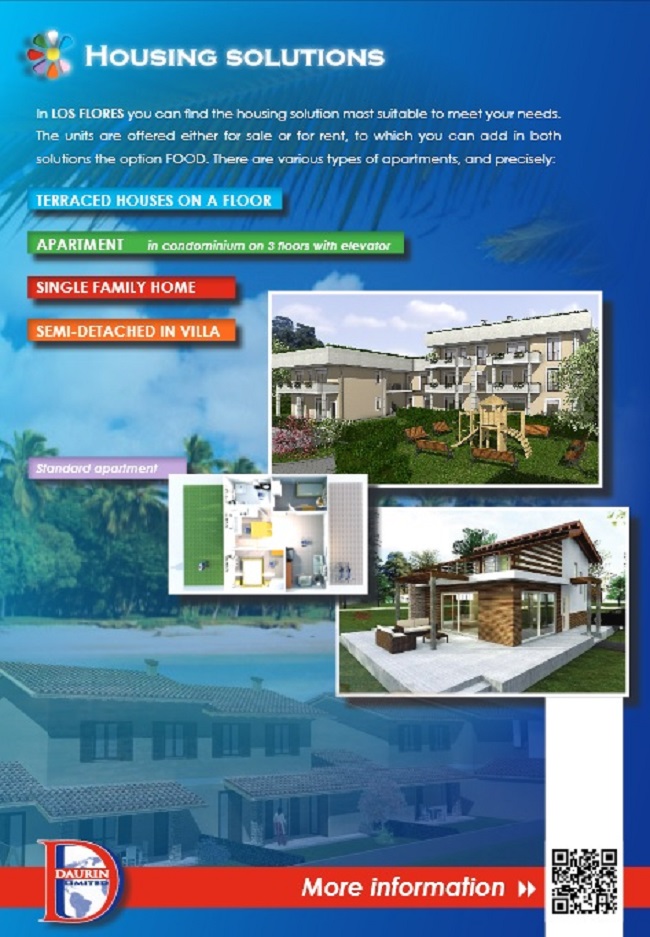 WHY LOS FLORES?

How was the idea born?
The dream of every person, of all ages and social ranks, has always been to be able to live in a place, where you can walk in absolute peace and calm and live in total security.
A private city, green and alive, in which people can interact with each other and live special moments, thanks to the numerous activities offered daily.

If then, this city were in a place with ideal and warm climate and the sea were not far from the houses, wouldn't that be like living in a fairy tale?
After an extensive period of market research and consultations we have reached the conclusion that it would be possible and desirable to realize such a dream city.
The city is designed for everyone and is not limited to being a center for people who want to spend their last years in life in absolute serenity and peace.
It has to be a dynamic and productive city in all respects. It is planned to not only be economically independent but also to produce wealth in terms of services and goods for export and trade.

The principal key of the emerging city are:
• Helping others;
• Participating actively in social life;
• Bringing ideas for further developments.

It is a city where education and culture are of upmost importance and where sharing knowledge becomes the key to profit and to the stimulation of creativeness.
There is a wealth of activities to be undertaken in this city, for example the collection and sorting of waste or various agricultural activities food supplies, a lot of professions are required , like locksmiths, masons, gardeners, cooks, waiters, teachers...

We want to be an independent and autonomous city that becomes a benchmark for other places. In fact we don't limit ourselves to be self-sustainable, but we aim to produce more than we consume and thus also to serve the broader community.

It is a green and ecological city, where construction are ultra-low energy buildings (passive house - class 0) ecological certified to impact 0, and completely self-sufficient. The required energy would be produced from renewable sources and waste products with a very low environmental impact.
Cars will not be allowed in our city to avoid CO2 emissions, but shuttle services will be provided 24 hours per day to enable unrestricted mobility for all citizens.Other public several services such as Wi-Fi, entertainment ... are offered.
The city is intended to be open to everybody, from the pensioner who wants to find an oasis of comfort and peace, to someone who wants to cultivate friendships and find a way to live carefree and with joy, to the young professional who is full of expectations and ready to embark on a career that is based on one of the many possible options for economic activities in the city.

We want to build a green, clean, lively and productive city.
We want to realize the city of dreams: LOS FLORES.



WHO IS ELIGIBLE FOR THIS CITY?


We turn to individuals of all nationalities, imposing a limited number of people for each
country, in order to obtain a variegated population and an almost exclusive.

• People who are at least 25 years of age.
• Families
• People willing to help each other.
• People who wish to participate actively in the social life of the city and be
part of the same.
• People who wish to propose and participate in various programs and projects.
• People who want to live in a safe city

This city is conceived for a wide typology of people, the must is to offer opportunities
and solutions that are able to guarantee as much as possible the requirement of future
residents. These solutions will meet most of the demands and provide what people
need.

1) Security and tranquility of mind is our first choice.
Make everyone feel at home 24 hours a day thanks to an avant-garde security system,
as well as video surveillance systems wherever there are public areas.

2) Although most people have their own health insurance (personal, private or from
her own state), all residents of the city will be covered by a specific private health
insurance.
It will be built an equipped hospital with the best equipment available on the market,
in addition to a nursing home where they will be accommodated needy and not selfsufficient People.

3) It will be built a resort by the sea, about 1 km from the city to accommodate all those
who want to spend days relaxing, with free transport to and from the city, thought to
guests who come to visit the citizens of Los Flores.

4) A farm and a fishing company will be located in proximity in order to provide daily
fresh products of nature to the city, cultivated with biological and natural systems, with
no added chemicals.
It will be also built a small house for those visitors who wish to spend some time in the
nature.

5) A trading company will represent all those European companies that wish to expand
into the market of Central, South and North America.

6) As there are protected areas nearby, we have already started negotiations with the
Ministry of Environment to build a large aquatic park in the nature area.